About us
The ACRF Image X Institute is a centre for innovation in radiation therapy and cancer imaging technologies.
We create, share and apply scientific knowledge to improve health by building new technology for cancer imaging and targeted radiation therapy.
We engage with industry, hospitals, international collaborators and universities to forge relationships that help take our projects from lab bench to patient bedside.
ACRF Image X is a part of the Faculty of Medicine and Health at the University of Sydney. Explore more research within our faculty.
---
May 2021
---
Funding Success for Dr Doan (Trang) Nguyen
Congratulations to Dr Nguyen, who will use artificial intelligence to enhance radiotherapy effectiveness, thanks to $449,316 of support from Cancer Council NSW.

Harnessing the power of artificial intelligence, in this project Dr Doan Trang Nguyen and her team will implement "beam's-eye-view" tracking technology during radiation treatment for prostate, liver and pancreas cancer patients. With beam's-eye-view tracking, the cancer is tracked at all time during radiation therapy treatment, ensuring high accuracy and high precision treatment. For the patients, this means their cancer is hit and destroyed while their healthy tissue and organs are protected from damage.
May 2021
---
Image X Researchers Awarded by AAPM
Congratulations to two of our researchers, who have been recognized for their innovations in physics in medicine. Emily Hewson and Dr Tess Reynolds have each been given top awards by the American Association for Physics in Medicine (AAPM), and as a result their research will be under the spotlight at the world's largest medical physics conference this winter.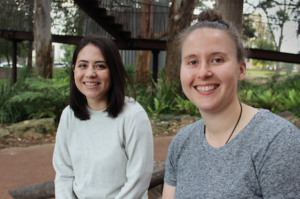 March 2021
---
ADAPT Trial – Early Results
Early results of the ADAPT clinical trial show that faster imaging with a lower dose + higher quality is possible, bringing improved care to future lung cancer patients. In this trial, Respiratory Motion Guided (RMG) 4DCBCT will be implemented for the first time on lung cancer patients. RMG-4DCBCT adapts the image acquisition as the patient's breathing changes (i.e. if the patient breathes faster, imaging data is acquired faster). By adapting the acquisition to the dynamic patient we are able to acquire personalised images of a patients lungs for radiotherapy treatments.

Contact us
Phone: +61 2 8627 1106
Email: image-x.contact@sydney.edu.au
Social media: Facebook | Twitter
Level 2, Biomedical Building (C81)
1 Central Ave
Australian Technology Park
Eveleigh NSW 2015
University Internal Mailing
Suite 201, C81-Biomedical Building,
University of Sydney, NSW 2006