Reducing anxiety and distress for head and neck cancer patients.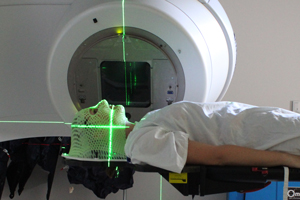 Immobilisation masks are used during head and neck cancer (HNC) radiotherapy to ensure an accurate treatment, by holding the patient's head and shoulders still.
Up to 50% of HNC patients fear being enclosed and trapped by the mask, experiencing anxiety and distress. Some patients need to undergo counseling or sedation to help them cope with the immobilisation.
Aside from the more general reduction in quality of life associated with anxiety, it can also reduce treatment adherence, thereby leading to decreased survival rates among HNC patients.
Our Solution
We're developing surface monitoring technology that can detect & guide patient motion, which will allow us to "remove the mask" from HNC radiotherapy treatment.
We will integrate surface guidance with our other technologies for pausing or adapting the treatment beam when motion occurs.
This technology will enhance HNC treatment quality. Not only is it expected to match the accuracy of existing HNC radiotherapy, it will simplifying the treatment procedure. Above all, it will significantly improve the treatment experience of HNC patients by reducing their physical discomfort, anxiety and emotional distress.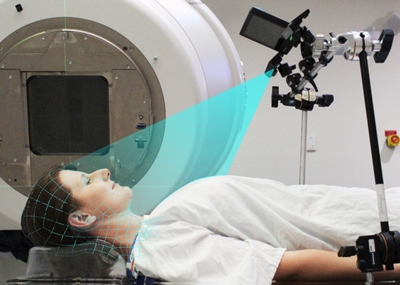 Current Status
Our surface guidance and biofeedback technology is being tested in clinical trials for breast cancer patients, and we are working with Westmead Hospital to develop a prototype specifically for HNC.
Clinical Studies and Trials
There are three clinical studies and trials planned:
Acceptance and technology assessment study with 20 HNC survivors and improve the design based on the feedback.
Single arm, phase II clinical trial of mask-free RT to monitor surface and internal anatomic changes and stop (gate) the beam when the patient is outside acceptable limits.
Phase II, randomised controlled clinical trial to determine clinical feasibility and potential efficacy of mask-free RT with beam adaptation.
Collaborating Organisations
Westmead Hospital
Blacktown Hospital
UC Davis
Contact
For more information or to discuss this project, contact:
Professor Paul Keall
paul.keall@sydney.edu.au