Reducing anxiety and distress for head and neck cancer patients.
Remove the Mask is a patient-led project forged by Julie McCrossin OAM and Professor Paul Keall, to improve treatment for Head and Neck Cancer (HNC) patients.
The project's first steps were enabled by a successful public crowdfunding campaign in 2018. This funding provided Remove the Mask with the initial equipment to get started. Since then, the project has gained momentum and has been funded to take the next step towards the goal of creating a technology that can be implemented globally to improve the lives of patients with HNC.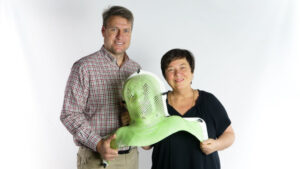 About Head and Neck Cancer
Head and neck cancer (HNC) affects about 900,000 people per year globally. That number is steadily increasing, and the typical age group and demographic is changing. Formerly thought of as a cancer that afflicts 'older smokers', HNC is increasingly common in middle-aged and younger people, with HPV (Human Papilloma Virus) and alcohol consumption also contributing to HNC risk.
---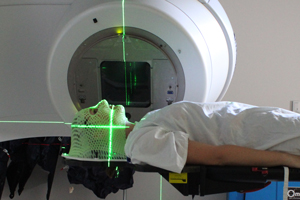 Our Solution
Remove the Mask is a project which aims to improve the experience of undergoing radiation therapy for Head and Neck Cancer (HNC). Typically half of all HNC treatment involves radiation therapy.
During radiation therapy for HNC, immobilisation masks (pictured) are used to ensure an accurate treatment, by securing the patient's head and shoulders to the treatment platform, ensuring perfect stillness during treatment.
Regardless of any pre-existing mental health conditions, about 1 in 2 people will experience significant anxiety and distress due to the immobilisation mask. Some patients need to undergo counselling or sedation to help them cope with the immobilisation.
Aside from the general reduction in quality of life associated with suffering from anxiety, in the worst cases, the anxiety and claustrophobia of wearing the immobilisation mask can make it impossible for someone to undergo treatment.
Our Technology
"What if instead of forcing the patient to be held completely still during treatment, we developed treatment technology that would move with the patient?"
That's the question Professor Paul Keall asked himself when he saw cancer survivor Julie McCrossin speak at a conference, telling the story of her awful experience wearing an immobilisation mask.
To remove the mask from radiation therapy entirely, we're combining some of Image X's existing cancer targeting technologies, as well as developing new surface monitoring technology. We're building a system that will detect the patient's motion and guide the radiation treatment accurately without the mask, and without the anxiety that immobilisation masks can cause.
We're developing surface monitoring technology that can detect & guide patient motion, which will allow us to "remove the mask" from HNC radiotherapy treatment.
We will integrate surface guidance with our other technologies for pausing or adapting the treatment beam when motion occurs.
This technology will enhance HNC treatment quality. Not only is it expected to match the accuracy of existing HNC radiotherapy, it will simplify the treatment procedure. Above all, it will significantly improve the treatment experience of HNC patients by reducing their physical discomfort, anxiety and emotional distress.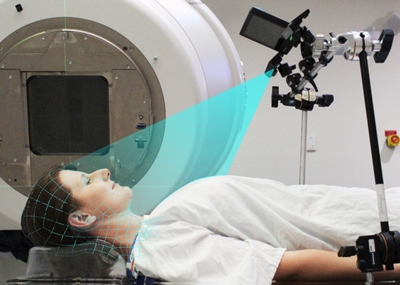 Current Status
There are two main technologies involved in this project: Cancer Targeting, and Surface Tracking.
Our Cancer Targeting technology tracks the tumour inside the body using X-Ray. It was originally developed for other cancer sites, and is already being used in clinical trials for breast cancer patients. We are collaborating with Westmead Hospital to modify the system for use in Remove the Mask.
The second technology is the facial Surface Tracking technology. This technology monitors the surface of the person's face, neck and shoulders, allowing us to detect any head or shoulder movement with sub-mm accuracy. Our surface tracking technology is currently being tested in the VISION trial, which will evaluate the accuracy of the surface tracking on healthy volunteers. This will also allow us to investigate how much movement that is likely to happen for patients during radiotherapy.
For the internal motion monitoring technology, we currently have demonstrated the accuracy of this technology using artificial medical images. We are in the process of collecting real patient images from HNC patients undergoing radiotherapy treatment, as part of the CHIRP study. This will allow us to test the internal motion monitoring methods on real patient data.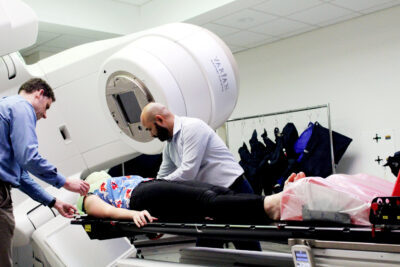 Clinical Studies and Trials
Volunteer Investigation with Surface Imaging for Oncological Needs (Vision): The VISION study is a volunteersr study which aims to acquire data that will help us test and further develop the Remove the Mask surface monitoring system., a technology meant to improve the treatment of head and neck cancer patients who are being treated with radiation therapy (RT).
Surface Monitoring technology to Remove The Mask – Stage 1: In this trial, we will run treatment simulations of the Remove the Mask system to gather information about peoples' experiences of the technology – both patients and clinicians. This will help us iron out any problems, and refine the technology ready for use in real treatments. Importantly, we will also be able to measure whether our technology does reduce treatment-related anxiety in patients.
Collection of Head Images for RadiotheraPy (CHIRP): In this trial we're using scans of people with head and neck cancer undergoing radiation therapy. We're using these existing scans to test and improve our technology's ability to identify HNC tumours in scans. This is the first step to being able to track the tumour during treatment.
Collaborating Organisations
Westmead Hospital
Blacktown Hospital
UC Davis
Contact
For more information or to discuss this project, contact:
Professor Paul Keall
paul.keall@sydney.edu.au